Categories: Game Design, Transformational Games, Codesign, Rapid Prototyping, Design Research
Tools: Photoshop, Illustrator
Summary
Outbreak is a collaborative question asking game for two to five players. The game positions players as remote radio dispatchers who must carefully pose questions to a robot while it explores an unknown laboratory in search of a cure for a deadly virus. Players collectively decide how to pick a team of game characters equipped with tools to address each room's unique threats, including: zombies, monsters, angry people, hidden objects, or ghosts, which call for different characters' skills.
Goals
The "Sensing Curiosity in Play and Responding" (SCIPR) project, at Carnegie Mellon's Human-Computer Interaction Institute, aims to design and study game-based interventions for encouraging curiosity through play, particularly for marginalized students who may benefit from increased comfort with curiosity (e.g., female science students, racial minorities). These games are targeted toward middle school (9-14 year old) students. As a part of the SCIPR project, I have iteratively designed and prototyped several games. This is the game I had design lead and ownership over for the majority of the project.
The goal of this particular game is twofold: increase comfort with asking questions, and increase quality of questions asked.
Process
The design process for this game is part of the basis for our paper published at Meaningful Play on designing for games in a diverse team.
Outbreak began as a brief mashup of prompts contributed and then discussed by all teammates after doing a team-wide literature review of curiosity research. From the original 65 concepts, ideas such as a game with a "tome" and a "choose your own adventure" or "escape" style game were flagged by team experts as having potential to promote our delineated goals. In its early stages, the game was handed off between designers in between playtests to promote a variety of ideas and concepts before being "owned" by one designer in the later stages.
A commitment to playtesting early and often was at the fore, with team playthrough and critique every two weeks from January to May 2016. Because we wanted to allow our games to get "big and messy" before paring down, early versions of Outbreak contained many mechanics and ideas that ultimately were cut.
The game was put in front of a High-Socioeconomic (SES) and Low-SES sampling within our intended age range once every two weeks for two months from July to August 2016. Throughout those playtests, a variety of quantitative and qualitative measures around player experience and affect were collected as part of an ongoing research effort.
Two codesign sessions were held with the target audience age range and SES to promote story and ideas within the game that our intended audience would be familiar with.
Outcomes and Takeaways
This game was the recipient of the Meaningful Play 2016 "Player's Choice" and "Best Student Nondigital Game" awards. It has been chosen as the subject of an ongoing Carnegie Mellon grant examining curiosity and play with a virtual agent and is currently being researched by the Human-Computer Interaction institute for player outcomes.
A full postmortem is being written currently, but among the takeaways:
Designing for fear of failure often means making players fail early and often
There's elements of cognitive load theory that run counter to standard game design methods which can help low-SES audience experience with games
Designing for a replayable narrative in a game and designing for curiosity can actually run counter to each other
Prototype fidelity may matter more to low-SES audience playtests and should be taken into account when designing game interventions
Repeat play is a powerful game mechanic that isn't often considered in the "full loop" of a design experience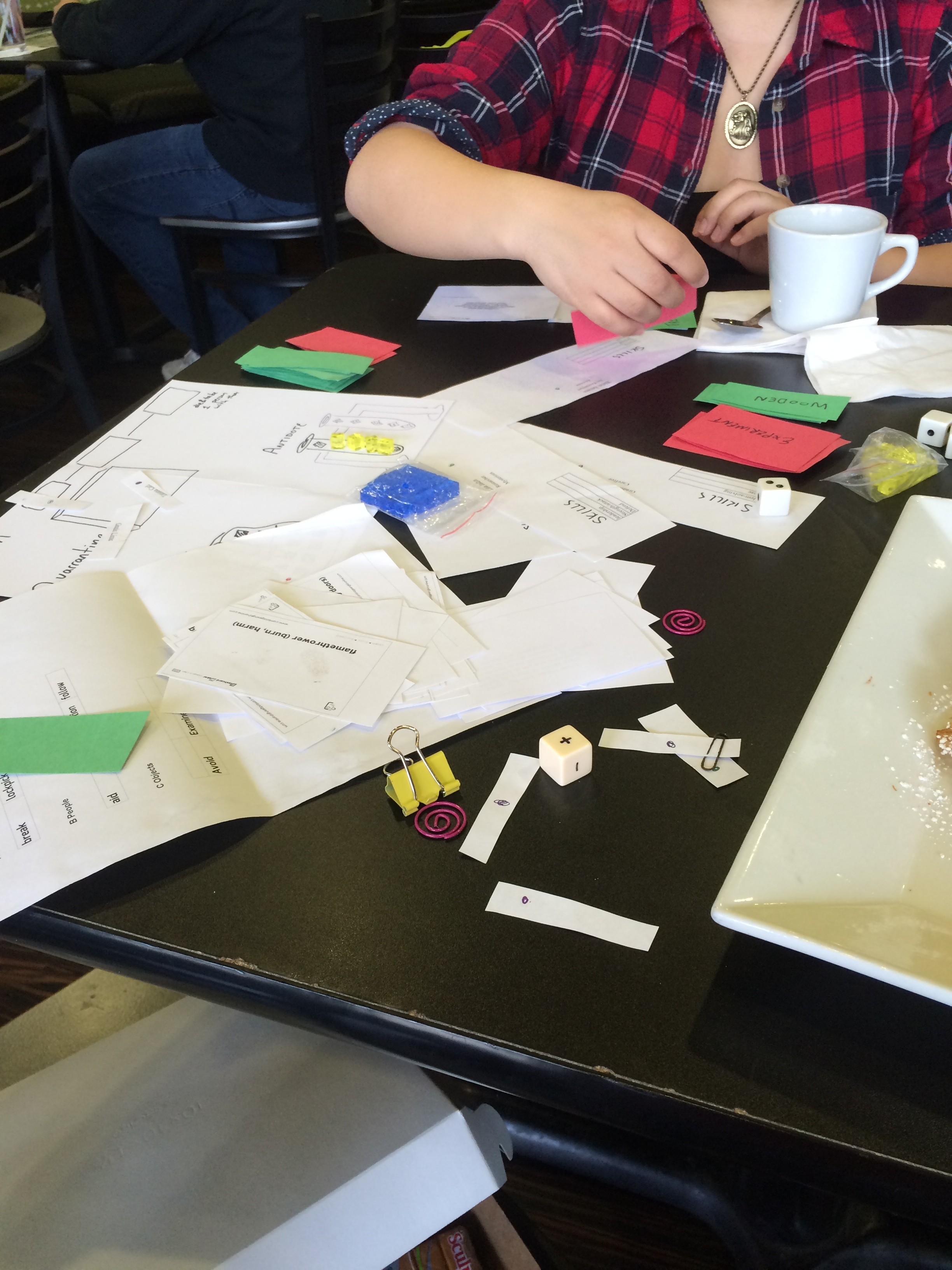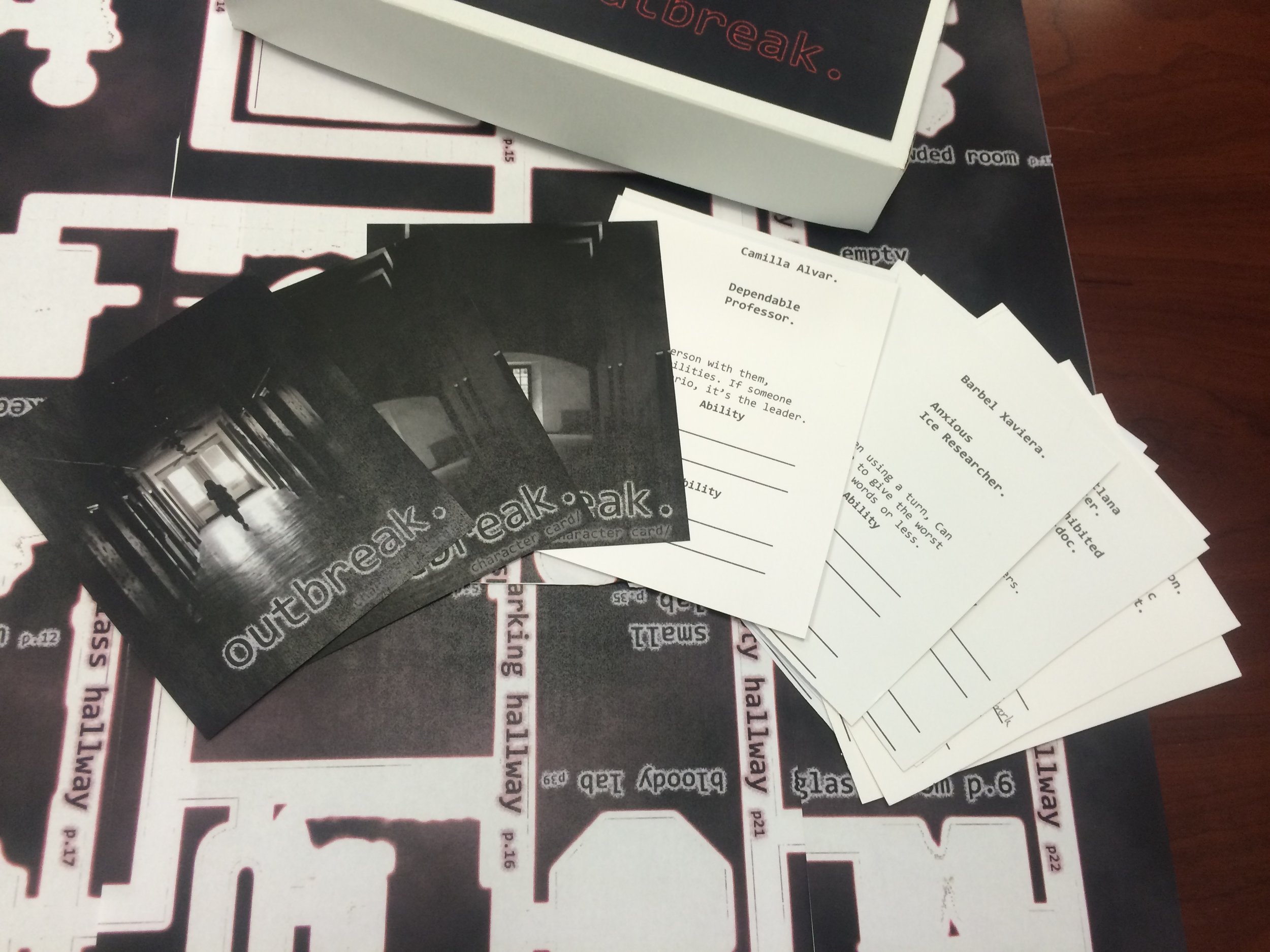 Role: Design Lead
Attributions: Thanks to Alexandra To as project director and co-designer, Jessica Hammer and Geoff Kaufman as advisors
Team Size: 4
Project Length: 16 Weeks